Please change your device orientation.
Please select your country / region
HAUTE PARFUMERIE
L'ART & LA MATIÈRE
COLLECTION
The L'Art & La Matière collection celebrates the queen of all flowers, the Rose. As Guerlain's most cherished flower, it makes see La Vie en Rose with Rose Chérie, revealing a trail of its most tender pastel facets.
ROSE CHÉRIE, LA VIE EN ROSE
Strewn in profusion, the rose in Rose Chérie is present in its every nuance and form, by way of rose water, essence and absolute of Damascena rose, as well as the incredibly sought-after Centifolia rose sourced from Grasse, France.
AT THE HEART OF THE EXCEPTIONAL
The L'Art & La Matière collection reveals treasures that are full of creativity and emotion.
In natural or neon pink, the two new limited-edition cord colours allow you to personalise your bottle with a unique sensory experience.
An exceptional gift set to prolong Rose Chérie's trail at home, which includes the Figue Azur diffuser and Eau de Lingerie.
The new scented ritual from L'Art de Vivre home collection by Guerlain.
THE ART OF PERSONALISATION
Customise your bottle, choosing from a host of elegant combinations to transform it into your own companion, intimately personal in each and every touch.
IN THE PERFUMER'S WORDS

"L'Art & La Matière is all about vibrantly transforming materials into art."
Delphine Jelk,
Guerlain Perfumer
THE ART OF RAW MATERIALS
Every creation in the L'Art & La Matière collection is born of an artistic emotion, an indelible mark left on each Guerlain Perfumer's memory. As artists guided by their creative genius, they shape the most beautiful materials to create daring works with talent and passion.
THE ART OF BOTTLING
Taking inspiration from the Guerlain heritage Square Bottle (1870), the L'Art & La Matière bottle is an exceptional object whose design exudes unisex sophistication steeped with modernity. Made by Pochet du Courval - historic glassmakers of the House - it is infinitely refillable* and customisable at all Boutiques and selected Guerlain counters.
L'ART DE VIVRE COLLECTION
L'Art de Vivre - the home collection - elegantly extends the art of fragrance into one's living space.
THE ART OF BESPOKE SERVICES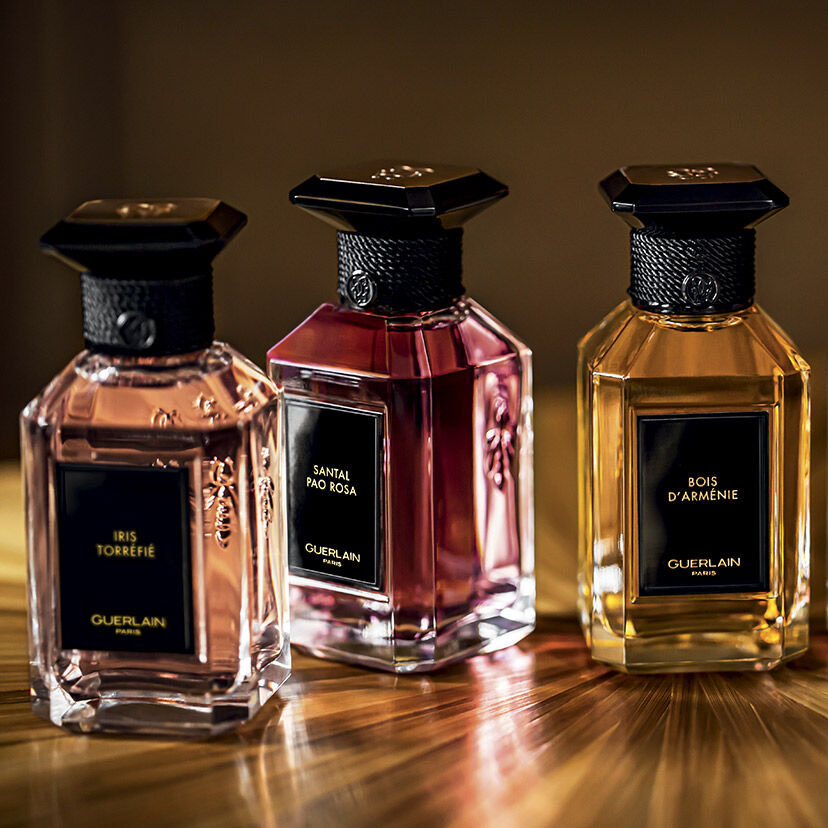 Find the perfect fragrance for yourself or a loved one.
Design your own bottle with a myriad of beautiful materials and colours that are dear to the House of Guerlain.
The luxury of personalisation is made ultimate with the collection of exceptional hand-crafted plates.
GUERLAIN IS COMMITTED AND TAKES
ACTION IN THE NAME OF BEAUTY
Since 1828, Nature has been our source of inspiration. We are committed to sustainable innovation, preserving biodiversity, acting for the climate and creating a positive societal impact, and we are particularly committed to protecting one of the most precious treasures on our planet: the bee.
DISCOVER