Go to content

Please change your device orientation.
Please select your country / region
At any time, you can change your navigation country / region at the bottom of the page
description
Eye R Repair Serum is Abeille Royale anti-ageing skincare expert dedicated to the youthfulness and openness of the eyes. With concentrated efficacy, its formula composed with 94% naturally-derived ingredients* provides a spectacular eye-lifting effect. The eye area looks more open; puffiness and dark circles are reduced.

BlackBee Eye Repair™ technology combines honeys and exclusive royal jelly with tensing polymers for a lifting and smoothing effect.

Skin is fortified and firmer and the eye area looks instantly illuminated.

Featuring a metallised pearl with a refreshing effect, its ingenious applicator, the Gold Drop, delivers a precise dose of serum for a 360° tensing and reviving massage, an application step appreciated by 100% of women**.
Eyes appear wider and their radiance is enhanced.

*Based on the international ISO standard 16128, including water. The remaining 6% helps to optimizing the formula's integrity over time and its sensoriality.
**Satisfaction test in China, 61 women, 2 applications/day, after 1 month.
fragrance
A sun-drenched nectar by the Guerlain nose Thierry Wasser: fresh and airy honeyed scents.
APPLICATION TIPS
STEP 1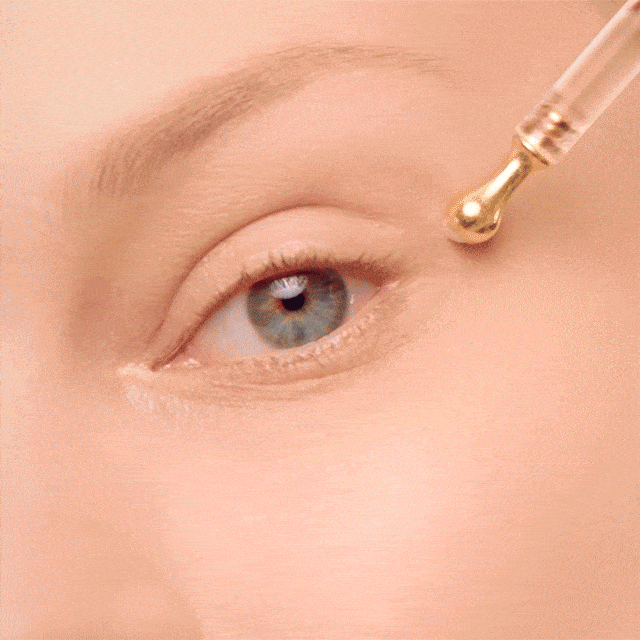 STEP 2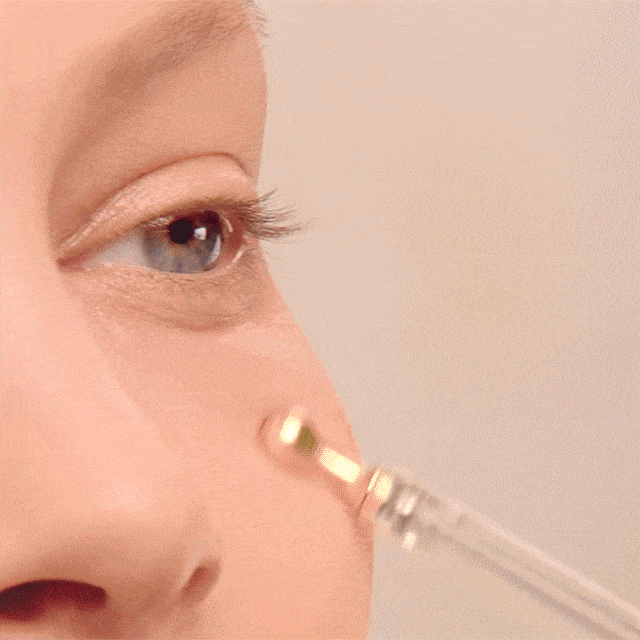 STEP 3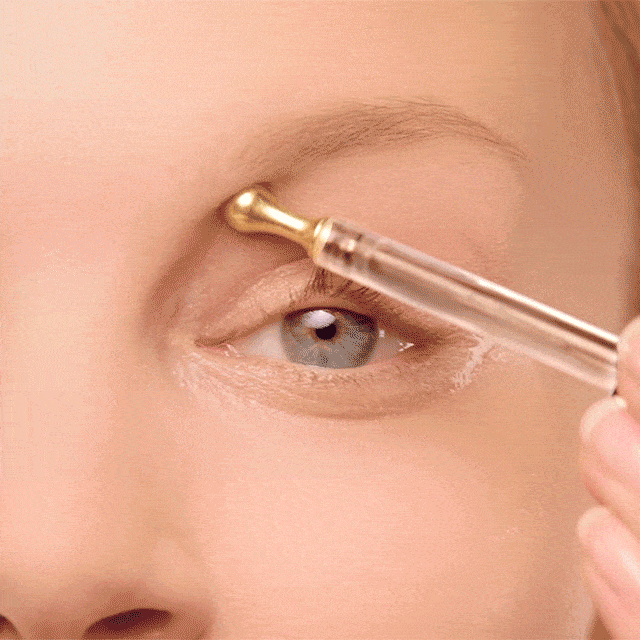 To accompany Abeille Royale Eye R Repair Serum, follow the unique application ritual exclusively developed by Guerlain Institute & Spa's expert facialists.

1. Smooth for a radiant and revitalised eye contour: apply one drop of serum under the outer corner of the eye and smooth across the undereye with the applicator.

2. Stimulate to decongest and activate micro-circulation: draw small circles under the eye with the applicator.

3. Tone for a lifting effect: use the applicator to draw an arc from under the eyebrow to the temples, making sure the eyebrow is as raised as possible

Usage tip: store your serum in the fridge for an intense fresh effect.
ABEILLE ROYALE
REPAIR BORN FROM SCIENCE AND THE BEE
ABEILLE ROYALE
REPAIR BORN FROM SCIENCE AND THE BEE
ABEILLE ROYALE
REPAIR BORN FROM SCIENCE AND THE BEE
Effectiveness
Clinically proven
Eye-lifting effect X3*

And approved by women
• After the first drop**
Smoother eye contour: 97%
More luminous eye contour: 90%

• After one week***
Eye area looks younger: 100%
Firmer skin: 98%
Reduced puffiness and dark circles: 98%

• After one month***
Face looks younger: 100%
More open eye area: 95%

*Comparative clinical test d0 vs d28 – performance evaluation on the eye contour on 33 women
**Satisfaction test in China, 61 women, 1 application per day
***Satisfaction test in China, 61 women, 2 applications per day
OUESSANT HONEY
Just 18 km off the coast of Brittany lies the island of Ouessant, a Unesco Biosphere Reserve with an ecosystem that is parasite-free and protected from pesticides. On this island the Black Bee produces a pure honey with exceptional properties. Rich in amino acids, trace elements and high in fructose, this honey offers the essential ingredients that are vital in the repair process of skin tissue.
EXCLUSIVE ROYAL JELLY
Produced in very small quantities, Royal Jelly is the most precious substance from the beehive, capable of transforming an ordinary bee into a queen with exceptional vitality. To guarantee the high quality and traceability of its royal jelly, Guerlain has developed its own exclusive sourcing in France. This Royal Jelly is a natural source of carbohydrates, proteins, lipids and vitamins. Guerlain Research has proved its efficacy in increasing the skin's ability to withstand the effects of stress and pollution*. *In vitro tests on ingredient
Ingredients
Eye R Repair Serum is infused with a blend of carefully selected bee products:

• Ouessant Honey
Just 18 km off the coast of Brittany lies the island of Ouessant, a Unesco Biosphere Reserve with an ecosystem that is parasite-free and protected from pesticides. On this island the Black Bee produces a pure honey with exceptional properties. Rich in amino acids, trace elements and high in fructose, this honey offers the essential ingredients that are vital in the repair process of skin tissue.

• Exclusive Royal Jelly
Produced in very small quantities, Royal Jelly is the most precious substance from the beehive, capable of transforming an ordinary bee into a queen with exceptional vitality.
To guarantee the high quality and traceability of its royal jelly, Guerlain has developed its own exclusive sourcing in France.
This Royal Jelly is a natural source of carbohydrates, proteins, lipids and vitamins.
Guerlain Research has proved its efficacy in increasing the skin's ability to withstand the effects of stress and pollution*.
*In vitro tests on ingredient
Expert Formulas
Abeille Royale: Repair born from science and the bee.

With over 10 years of research, Guerlain has scientifically proven the effectiveness of bee products in boosting the skin's repair mechanisms. Abeille Royale offers an advanced solution to effectively combat the visible signs of ageing, namely wrinkles and loss of firmness.

At the heart of the new Eye R Repair Serum's effectiveness lies the exclusive BlackBee Eye Repair™ technology for a eye-lifting effect.

It combines:
• BlackBee Repair™ technology: based on the latest discoveries in neuroscience, it targets the damage to skin and nerve cells caused by stress and the environment. It contains the finest substances produced by bees, selected for their extraordinary powers: Ouessant Island honey, harvested in Brittany in France, combined with a blend of honeys and Guerlain's exclusive royal jelly, which is rich in exceptional nutrients and also harvested in France. This technology helps stimulate the key skin repair processes for visibly younger-looking skin.

• Two naturally derived tensing polymers: they form a highly supple tensing mesh which has a perceptible lifting effect, preserving elasticity, without stiffness .

• An exclusive anti-fatigue complex: combining three plant extracts* with naturally derived micro-nacres, it instantly illuminates the eye area and brings a natural radiance.

*Zerumbet Ginger, Caffeine and Rosemary