Please select your country / region
At any time, you can change your navigation country / region at the bottom of the page
THE NEW
HIGH PERFECTION FOUNDATION
96% NATURALLY-DERIVED INGREDIENTS* & 24H-WEAR HIGH PERFECTION**
HIGH PERFORMANCE
FOR HIGH PERFECTION


With L'Essentiel High Perfection skin is naturally enhanced to reveal its full beauty. Its second-skin texture immediately offers high coverage without a mask-like effect. Meanwhile, shine is neutralised in perfect comfort to reveal true radiance. This new, highly perfecting foundation wears for 24 hours**.
AVAILABLE IN 30 SHADES TO MATCH EVERY SKIN TONE.
A SKINCARE FOUNDATION WITH 96% NATURALLY-DERIVED INGREDIENTS*
L'Essentiel has nothing to hide. The remaining 4% have been chosen in good conscience. Their function: guaranteeing the impeccable, long-lasting hold of the foundation and its sensory qualities.


Instant:
Lets skin breathe and preserves hydration***.
Day after day:
Bare skin is more beautiful: skin is smoother (+15%), skin texture is refined (+9%)****. The make-up result gets even more beautiful: the appearance of pores is reduced (-59%), as is the appearance of pigmentary imperfections (-45%)*****. The complexion is fresh and even, mattified with an imperceptible look and feel. Formula dermatologically tested on all skin types, even sensitive skin.
L'ESSENTIEL AVAILABLE IN 2 FINISHES:
HIGH PERFECTION & NATURAL GLOW


Want high coverage, an impeccable matte finish and long-lasting, 24-hour wear?
Choose the new foundation L'Essentiel High Perfection.
Craving for lighter, more adaptable coverage and a radiant complexion that will stay fresh-looking for 16 hours?
Choose L'Essentiel Natural Glow.
DISCOVER
L'ESSENTIEL ROUTINE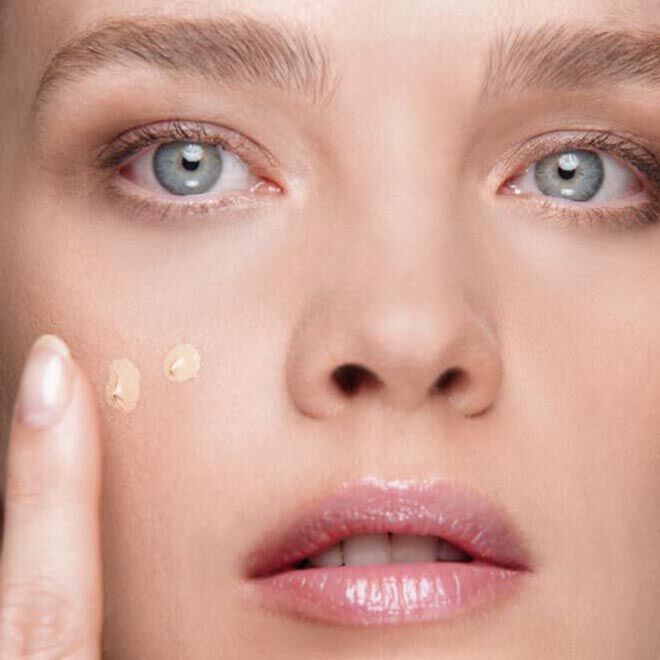 1.
ACTIVATE


To awaken the complexion, pat skin with the L'Essentiel brush before applying make-up. Start at the inner corner of the eye, go to the ear, and then down towards the chin.
2.
PREPARE


Use L'Essentiel Pore Minimizer Shine-Control Primer to mattify and even out your complexion. Place two drops on your fingertips and gently warm up the formula between your fingers. Apply to your face and massage lightly into skin, starting at the centre of your face and working outwards. Perform the "Piano Touch" technique to awaken and energise skin – by gently tapping with your fingertips across the face.
3.
UNIFY


Apply the foundation directly to the L'Essentiel brush. Then dab the foundation onto the face at five points: forehead, nose, chin, left and right cheeks. Pat and blend the foundation from the centre of the face outwards until the result is even.
4.
SCULPT


Add a finishing touch to face make-up with Terracotta Matte to warm up and sculpt the complexion for a shine-free effect.
*Calculation based on the international ISO standard 16128 Parts 1 and 2. The remaining 4% contribute to optimising the formula's integrity over time and its sensorial texture. **Instrumental test on 20 women. ***Instrumental test. ****Clinical evaluation by a dermatologist on 30 Caucasian women after 1 month, on bare skin. *****Clinical evaluation by a dermatologist on 30 Caucasian women after 1 month, on skin with makeup.