Please select your country / region
At any time, you can change your navigation country / region at the bottom of the page
HAUTE PARFUMERIE
L'ART & LA MATIÈRE
COLLECTION
CRAFTING RAW MATERIALS INTO ART
L'Art & La Matière is a collection of olfactory masterpieces for true lovers of all things beautiful, crafted by the hands of the House of Guerlain Perfumers.
THE PERFUMER'S SET
A selection of L'Art & La Matière fragrances in a palette of olfactory creations to discover and wear to suit your every desire.
295.00€
THE ART OF PERSONALISATION
Customise your bottle, choosing from a host of elegant combinations to transform it into your own companion, intimately personal in each and every touch.
IN THE PERFUMER'S WORDS

"L'Art & La Matière is all about vibrantly transforming materials into art."
Delphine Jelk,
Guerlain Perfumer
THE ART OF RAW MATERIALS
Every creation in the L'Art & La Matière collection is born of an artistic emotion, an indelible mark left on each Guerlain Perfumer's memory. As artists guided by their creative genius, they shape the most beautiful materials to create daring works with talent and passion.
THE ART OF BOTTLING
Taking inspiration from the Guerlain heritage Square Bottle (1870), the L'Art & La Matière bottle is an exceptional object whose design exudes unisex sophistication steeped with modernity. Made by Pochet du Courval - historic glassmakers of the House - it is infinitely refillable* and customisable at all Boutiques and selected Guerlain counters.
THE ART OF BESPOKE SERVICES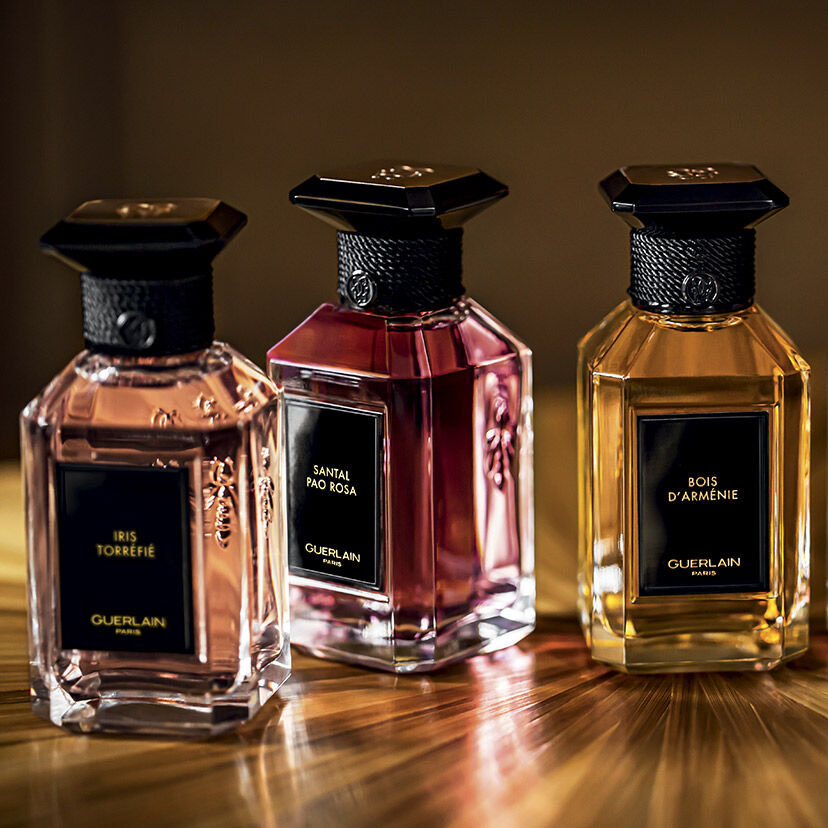 Find the perfect fragrance for yourself or a loved one.
Design your own bottle with a myriad of beautiful materials and colours that are dear to the House of Guerlain.
The luxury of personalisation is made ultimate with the collection of exceptional hand-crafted plates.
GUERLAIN IS COMMITTED AND TAKES
ACTION IN THE NAME OF BEAUTY
Since 1828, Nature has been our source of inspiration. We are committed to sustainable innovation, preserving biodiversity, acting for the climate and creating a positive societal impact, and we are particularly committed to protecting one of the most precious treasures on our planet: the bee.
DISCOVER